"Why was the Imperial / Alamo Canal (green line) dug 4 mile in the opposite direction of where the water needed to be delivered, parallel to the Colorado River?
Answer: Geography, Money, Politics, and the Law
Geography; The southwestern portion of California, USA includes a small mountain range referred to as the Chocolate Mountains. This range comes to an end in southern California, USA close to the US / Mexican border at Pilot Knob, California, USA, just north of Hanlon Heading close to where the Chaffey Headgate was built and the Hanlon Headgate still exists today. In the south and west, the mountain range tapers off into a region known as the Algodones Dunes which extends into Mexico for several miles. The land to the south of the dunes slopes downward from east to west and on the west side the downward grade continues north into the Imperial Valley and Salton Sea.  The easiest way to deliver water from the Colorado River to the Imperial Valley is around the southern edge of the Algodones Dunes in Mexico.
Money; To dig a canal within the boundaries of the United States where the All American Canal exists today (thin dark green line labeled All American Canal) would have cost millions of dollar even in 1900 and the California Development Company had neither the resources nor time to construct a canal on that scale. The predecessor to the California Development Company (The Colorado River Irrigation Company) had planned the route of the canal (blue line) to skirt around the southern edge of the dunes in Mexico and then north into the United States.  The canal engineer, George Chaffey, went one step further and decided to route the canal (light blue line) through the existing Alamo Arroyos as an additional cost savings measure. The route was longer, but it was much cheaper and faster to dredge out the arroyos into larger channels than to dig a new canal that followed the edge of the dunes.
Politics; From an engineering standpoint placing the start of the canal about 4 miles to the south of the US / Mexican border would have made much better sense than the actual beginning of the canal at Pilot Knob.  The canal was constructed in this manner to overcome a technical legal issue as to the ownership of the water.  Because the water from the Colorado River entered the canal in US territory, it meant that the water delivered to the Imperial Valley was 'American' water', not 'Mexican water'.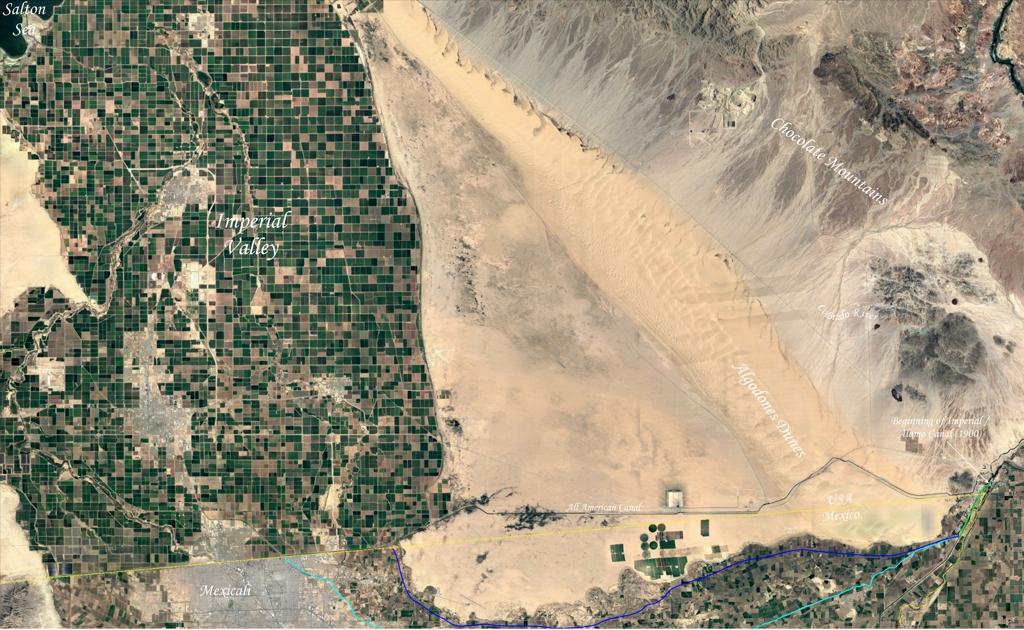 Satellite Image of Algodones Dunes and Imperial Valley in Southern California, USA
High Resolution Image
Super High Resolution Image
Super High Resolution Image with Super Zoom