The Salton Sea continued to grow larger, menacing livelihoods and property, while the cutback of the New River moved steadily closer the the Colorado River, and if reached would effectively end the existence of the Imperial Valley .
At the direction of E. H. Harriman, president of the Southern Pacific Railroad (SPRR), the struggle to save the Imperial Valley and halt the flood waters from the Colorado River continued with a greatly expanded scope.
To all of those involved, it had become obvious that simply damming the latest unwanted incursion of the river into Imperial / Alamo canal would be pointless without extending levees downstream for several miles if there was to be any hope of preventing similar disasters in the future.  This was far beyond any obligation of the SPRR, so the people of the Imperial Valley turned to the federal government and asked President Roosevelt to step in.
In an amazing insight to the future of the Salton Sea , speculation began about utilizing the sea for recreation and sport.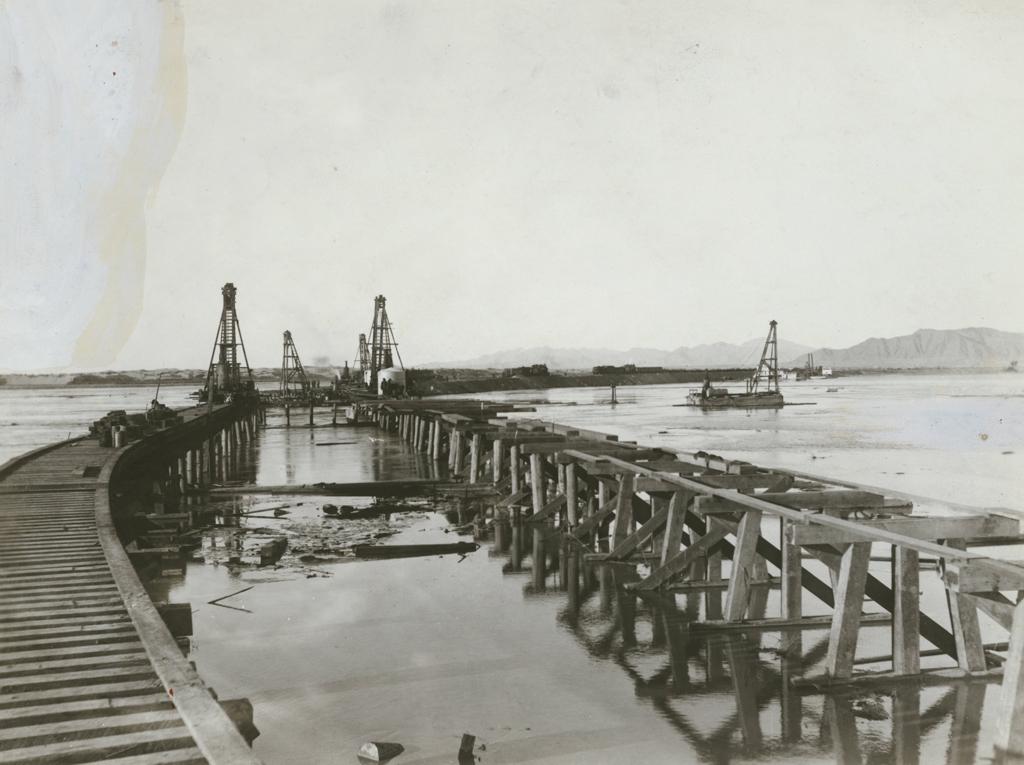 Train Trestles Built for Construction of Clarke Dam

Note;  This picture includes several pieces of equipment used in the construction of the dam, including sledge and barge mounted pile drivers, trains, and other boats.   Pilot Knob and the Chocolate Mountains can be seen to the north in the background.

High Resolution Image
Super High Resolution Image
Super High Resolution Image with Super Zoom
Super High Resolution Interactive Image